Whether you're just getting started and thinking about growing an email list in 2023, or if you're an old hand who has been doing email marketing for a while now, the end of the year is a great time to take a look at your strategy and see what you can do differently (and better) in the upcoming new year.
In this article I'll break down the 3 parts of a solid email marketing plan and strategy.
---
---
1. You need email addresses
It might seem obvious that in order to do email marketing you need to have people to actually send the emails to – so don't overlook strategies for how you're going to get those emails and grow your email list in 2023.
There are lots of ways that you can add people to your email list, and all of them work. Pick the one that works for you:
Ask your existing clients or students to join your email list,
Partner with someone else to host a training for their audience, and invite those interested to join your email list as well,
Host a live training, promote it on social media, and have them register with their email address to attend and to get the recording,
Create a valuable resource and give it away for free in exchange for email sign-ups.
---
2. You need tech
Back in the mid-2000s you could get away with using just a free Gmail email address and have people's emails hanging out in your contacts. Times have changed, email spam laws have tightened up, and tech companies have started taking this kind of thing seriously (around 2015, Gmail announced that they were not going to deliver emails with mismatched headers, which meant that even if you were using an email service provider but using your free Gmail address, you could no longer do that.)
If you haven't already, the first thing to do is set up an email address that is "you@yourdomain.com". Check your web host, or sometimes your domain registrar (the place where you purchased your domain) for how you can do this. In the vast majority of cases, setting up an email address is free. Your web host might also have a paid plan for hosting a webmail inbox for you. However, you can skip this and have your emails route to your existing Gmail inbox, or use a free mail service like Zoho mail.
Second, you need an email service provider, like ActiveCampaign*, ConvertKit, MailChimp, Flodesk, or similar. Having this software will not only make it possible to create automated workflows and email sequences (which is a necessity if you want to stay consistent in your strategy – read more here), but it will also cover you from a legal standpoint. The software will keep a record when someone subscribes and unsubscribes, so you can be sure that you are not sending unsolicited emails, and can prove it if you ever have to.
There are tons of email service providers to choose from, and you should do your research to compare the features of each. Here at Geni Collective, we use and highly recommend ActiveCampaign* due to the incredible functionality they offer for a truly competitive price.
A lot of times folks will pick an email service provider just because it's free. I recommend to look at the features of all the options, regardless of free or paid, and go with the option that you will enjoy using long-term. Once you have set up your systems in one email service provider, it can be hard to switch to a different system and start from scratch again. Email marketing is a long game, so you should pick your service provider for the foreseeable long haul, as well.
---
3. You need a plan
Every piece of your business strategy has a purpose. Social media is for gathering leads. Your website's purpose is to then nurture those leads with content. And your email marketing's purpose is to SELL.
So before you start firing off those emails, you need to know what the end goal is, and where you want to direct their attention to.
Through every email you send, you need to make it clear to your subscribers what they are struggling with, why they are struggling with it, and why you and your offers are the exact thing they need to achieve the result that they want.
You need to plan what experience you want your brand new subscribers to have as their first interaction with you. To this end, writing a stellar Welcome Series is a must. Have a read here where I break down the 5 things you need to have inside of your email Welcome Series.
---
---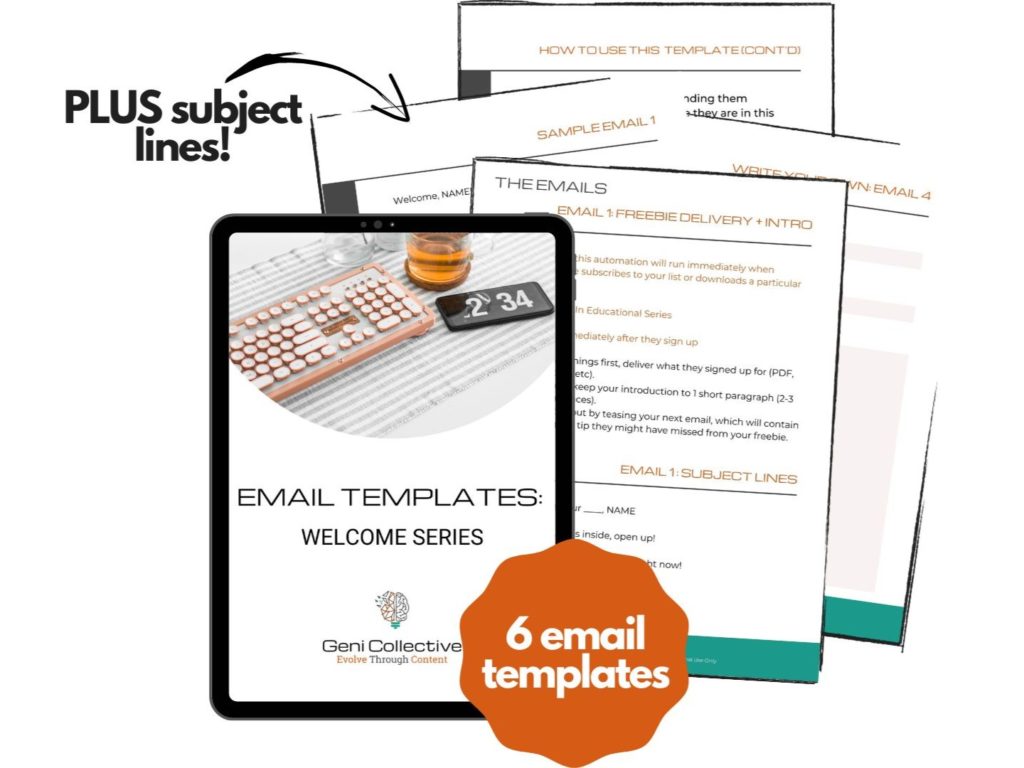 Get your FREE Welcome Series Email Template Pack!
Write the 6 essential emails you need to convert every subscriber to a super-fan with:
Easy to follow, fill in the blank instructions
Subject line ideas for every email
Video training for even more tips and ideas
---
---
You also need to have a plan for how you are going to nurture your subscribers in between launches, sales, or promotions. "Nurture" means sending them free tips, useful content, and resources they need. In short, it's when you will deepen your relationship by being generally helpful and building that Know, Like, and Trust factor, without which they will never buy from you.
Inside of your nurture sequence, also sometimes called the Educational Sequence, you're showing up as the expert that you are, and letting your subscribers know that they have found the right place and the right person to help them achieve their goals.
After you have shown that you are there for them, and they can rely on you for a trusted source of information, it's time to sell your offer.
A sales sequence can be as long or as short as you want – what really matters is that you do a good job of linking what you have been talking about in your previous emails to now, logically, asking them to take the next step by working with you.
That's why, when you are planning out your email marketing strategy, or email marketing funnel, you need to know what the end goal is.
If your main offer is a course on beekeeping for beginners, you would want to focus your educational sequence on one common problem that beginners run into, showing your subscribers that, even though they now have more knowledge than before, there is still much more that you can teach them.
When you have a plan, selling becomes easy and natural, because the offer is presented as the logical next step, instead of "just something you want to sell."
Want to see how the educational series and sales sequence work together? Make sure you check out our email template packs for both of those sequences, where I show you exactly what to write and in what order, PLUS I'll give you pre-built automations for ActiveCampaign so you can just plug in your content and go. Get both of these as a bundle right here.
Finally, you'll need a plan for your ongoing content.
Whether it's evergreen content (like blogs and podcasts) that you've already created, or content that you are creating just in time and publishing every week – your email subscribers need to hear about that. Make sure that you are keeping up with emailing your list consistently – at least once a week – so that you stay top of mind. You don't want them to think that you just pitch and ditch, do you?
Get some great ideas on what to send to your email list beyond just content in this article on how to keep consistent with your email marketing.
---
If it seems like email marketing is a lot to keep straight, and a lot to maintain, don't worry. It becomes a lot more manageable when you work on one part at a time.
Don't know where to begin (or improve) your email marketing strategy in 2023? Let's hop on a call and brainstorm together. Book a free 20 min chat with me right here.
---
* Some of the links in this article are affiliate links, which means that, at no extra cost to you, we may receive a small commission if you make a purchase. We only promote the tools that we use ourselves, and that we think would be a good fit for entrepreneurs like you.
---
---