So you want to create a course, or some other type of digital product – or maybe you've already created one – but thinking about how you're going to promote it makes you want to crawl down a hole.
It seems that the only way to sell things online is to be loud and constantly promote yourself and your stuff on social media.
The problem with that?
You're an introvert (or have strong introvert tendencies), and that's just not how you like to function in the world.
Good news: you're definitely NOT stuck without any sales just because being loud on social media is not your thing.
I'm going to break down for you why email marketing is an introvert's best friend when it comes down to marketing and making sales online.
(And, hey, if you enjoy social media, continue to do it!! There is no shortage of models for social media marketing out there, and it's an absolutely valid way to promote and sell.)
---
---
1. Email encourages 1:1 conversations
Unlike social media posts that many people will (or won't) see posted up there on a kind of virtual bulletin board, email is much more personal communication.
If you identify as an introvert, then you are more likely to respond positively to more personalized invitations (think: an email or text from a friend that was only sent to you) instead of a public invitation to a party posted on Facebook.
Think of email as the "personal invitation" of online marketing.
Email feels much less like shouting into the void, and more like penning a letter to a friend.
---
2. You can't "annoy" your subscribers
There is a huge mindset block for introverts surrounding email marketing in that they feel like they don't want to be annoying to their subscribers by actually sending them emails.
However, when you think about it, everyone who is subscribed to your email list has expressly WANTED to be there. And, if they didn't want to receive your emails, then they would not be subscribed.
All of your subscribers have raised their hands and said, "Yes, please send me emails, I want to hear from you and know what is going on with your business!"
Nothing about email marketing is unsolicited. You can't pay to have your emails be sent to random people who didn't ask for them (that would be illegal).
And if someone is genuinely annoyed at your emails? They can easily unsubscribe, leaving your email list a special place for those who DO want to receive your emails.
So don't be afraid to send those emails – your subscribers are literally waiting for you to pop up in their inbox.
---
3. Email is private
I will share that posting on social media, especially posting completely publicly, can feel intimidating.
What if someone doesn't like what you've said? What if they disagree in a not-so-civil manner and start a war with you in your comments? What if they report your account and send their army of followers to take you down?
Email is not like that. You know that when you send your emails, only those on your list are getting them.
You don't have to worry about trolls coming to your emails and dragging you through the mud for the rest of your email list to see. That simply can't happen, as no one knows who else is subscribed to your list or what their emails are.
No one else can email your list. No one can hijack your emails to further their own agenda.
Email is your safe space to share your expertise and opinions with those who chose to hear them.
---
---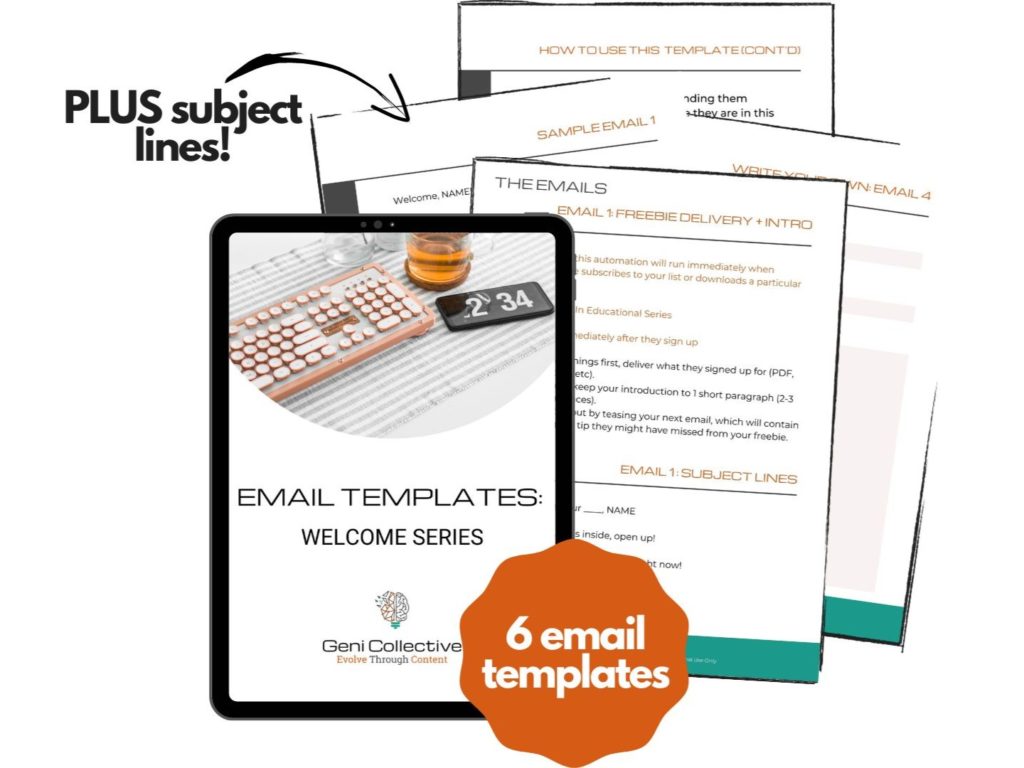 Get your FREE Welcome Series Email Template Pack!
Write the 6 essential emails you need to convert every subscriber to a super-fan with:
Easy to follow, fill in the blank instructions
Subject line ideas for every email
Video training for even more tips and ideas
---
---
4. Email is exclusive
Because we, in the online business circles, often hear about how important it is to be growing an email list, so it feels like it's this big favor that we are asking our subscribers to sign up and be on our list.
I'd like to challenge you to think differently:
It's a privilege for them to be on your email list.
Because you are an introvert, you likely value deeper connection, sharing thoughts and opinions, and providing heaps of value.
Those who are on your email list therefore receive your BEST nurturing, and thus are getting value that they wouldn't get anywhere else. (Especially if you don't use social media that much for your business.)
While it's true that anyone CAN sign up to your email list, not everyone WILL.
This makes your email list a very special and intimate community – full of only those who really enjoy hearing what you have to say.
When you come to write to your email list with this energy – that it's a privilege for these folks to be there and receive the value you're putting out – it shows up in a totally different way in your content.
---
If you haven't yet started with email marketing, I encourage you to read my post on Getting Started with Email Marketing.
And, if you have started, but are constantly running out of ideas on what to send or what to talk about, have a read on this post instead: How to Keep Consistent with Emailing Your List.
Want an even easier way to uplevel your email marketing? Grab our easy to use Email Templates, each of which contain email-by-email instructions on what you can write, what order to send emails in, and ideas for subject lines.
---
---